2020 Keilor Invitational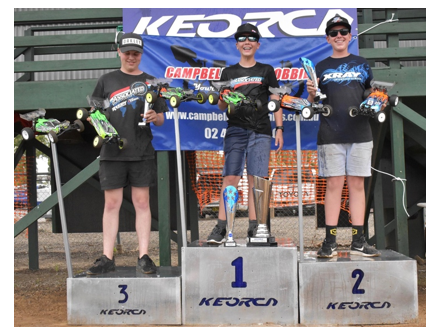 Team Associated & Reedy come home with the "W" at the 2020 Keilor Invitational brought to you by Campbelltown Hobbies. With Lachlan Munday (AE/Reedy) your Invite Modified Winner, Andrew Selvaggi (AE/Reedy) your Stock Invite winner. Young superstar Camden Camelleri (AE) getting his ticket to the 2021 modified invite class by winning the competitive 2wd Mod Open, and Michael Snedden (AE) punched his ticket to the 2021 stock invite class by winning 4wd 13.5 Open.
The 7th running of the Keilor Invitational saw the best drivers from around the country to battle it out over 10 rounds of heads up Reedy Race format racing for those lucky enough to receive a direct invite. For those who did not receive an Invite they would battle it out in the Open Mod and Open Stock classes for a chance to punch a ticket into the big show for 2021.
With only 2 names on the perpetual Modified Invite trophy, Ray Munday 4x winner and Kyle McBride 2x winner the 7th instalment of the Keillor Invitational wasn't going to disappoint. 2wd portion of the event saw the Munday household start off with Lachlan taking rounds 1 and 3 and Ray taking round 2. Newly signed Team Associated racer Jack McMillan found his groove by the end of the day and finished off with a win in round 5. As with all invitational racing formats it comes down to the amount of top 2 finishes you have and Lachlan ensured if he wasn't 1st he was 2nd, finishing 2wd carrying a 1,2,1,2 points tally into 4wd.
Taking his form from round 5 into 4wd it was Jack McMillan who opened the account for Team Associated with wins in round 6 and 8. Team Drivers Lachlan Donnelly and Cameron Zammit found their groove and banked some solid top 3 results throughout 4wd day.
Lachlan Munday would put in a stellar performance and ensure the perpetual trophy stayed in the family and came out the victor after a long weekend racing, racking up another win for Team Associated & Reedy making it 7 in a row for both brands! Jack McMillan would secure 3rd on the modified invite podium with a very strong tail end performance.
Unique to the Keilor Invitational, along side modified the event also runs a stock (17.5 2wd and 13.5 4wd) invite class, gathering 10 of the best spec class racers in the country. It was a slow start for the Team with Andrew Selvaggi (AE/Reedy) and Ben Howard (AE) only able to take 2nd in rounds 1 and 2, till Selvaggi found his groove and took the win in rounds 3,4 & 5, finishing the 2wd portion of the event with a near perfect score of 5 points. Howard would battle it out and complete 2wd 3rd overall on 12 points.
Things heated up for the 4wd and it would be Team Associated Australia driver and self proclaimed "old man" Paul Mason that would open the day with a win in round 6 with some serious pace and would go on to take some strong top 3 finishes throughout the day. Selvaggi would then take wins in rounds 7,8 & 9. AE and Campbell Town Hobbies driver Justin O'Connell got his head around the heads up format and started to drive towards the top half of the field with a top 3 finish in round 8. Ben Howard who drove some clutch rounds towards the end of the event was able to drive to the front of the pack and take the win in round 10. Selvaggi would secure the overall win with 1 round to spare and Ben Howard came in a strong 3rd for Team Associated.
The action was thick and fast in both Open Modified classes, with 3 qualifying rounds and one 7min final, anyone in the A-main had a chance at securing themselves a spot on the invitational grid for 2021. One of the best stories to come out of this years running was 10 year old Camden Camelleri (AE) who qualified third in 2wd Modified Open. Over the 7min final he'd charge his way up to 1st and punch his ticket to the big show in 2021. Troy Milton (AE) has been working his way through the modified ranks and put in a solid performance finishing 2nd overall.
Open Stock 13.5 4wd saw Michael Snedden (AE) wheel his way into 1st and earn his way into the 2021 invite field. Having only turned up minutes before qualifying with no practice on the new track, Michael rose to the occasion, having narrowly missed on the 2wd open stock win on day 1, his day 2 was perfect taking with 4wd win.
The #B6.2 and #B74 performed flawlessly on the newly prepared surface for all team drivers.